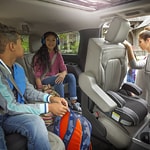 The 2020 Ford Expedition is a sports utility vehicle. It is ideal for families or people who travel in large groups. It can get 23 MPG. The outside of the car is not the only thing that people are attracted to. People also like the interior features.
Your passengers will be able to enjoy the ride because there is a dual-headrest rear-seat entertainment system. You will be able to plug in your gaming system, play a DVD or stream from a mobile device. Additionally, if you hook up a sling box, then you will even be able to watch live television.
There is also a B & O System by Bang & Olufsen. You will have your own personal sound studio while you are on the go. You will have an immersive and dynamic listening experience. You can take the Ford Expedition for a test drive. Visit our dealership.