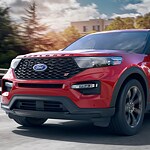 Families do love three-row SUVs. The extra row contributes to welcome additional passenger space. So, it is no surprise that the Ford Explorer ranks at the top of many consumers' popularity lists. Spaciousness is important, and so is performance. And yes, this SUV delivers intriguing performance capabilities.
The rear-wheel-drive does contribute to effective handling on tough terrains. The feature allows the Ford Explorer to perform capably on or off-road and do so in a sportive manner. RWD does complement the athletic design, which is another plus.
The 10-speed transmission is an incredible advancement over 6-speed options. Shifting up and down speeds becomes smoother than many consumers probably thought possible. With the Explorer, that smooth shifting is here to see and feel. Both commutes to work and adventuring benefit from the innovative transmission.
Find out how the Ford Explorer handles in Kittanning, PA for yourself. Contact the sales team at Tri-Star Ford Kittanning to set up a test drive right away.